my webcam

Saturday, April 12, 2003
Happy Disney. Photos.

Well, here are the photos. My dear wife used a Minolta Dimage X and to my daughter I gave 'credit card size' Axia Eyeplate (super compact, but poor quality images). The photos are here:
http://community.webshots.com/album/69304841PPGEHY

I love the photos my daughter, Mayuko, makes: the world through the eyes of a child. Is it not artistic? In particular, Mayuko as a preference for making photographs from very close, as you can see in this photo: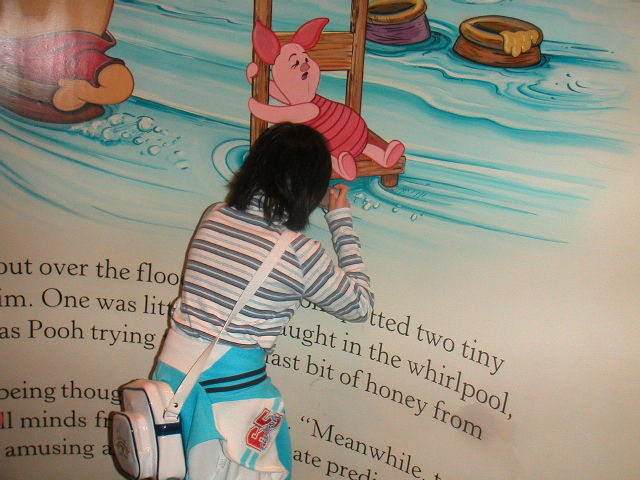 The result is this: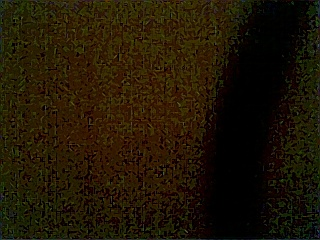 Not bad, no?

Some other photos made by Mayuko in one of the Minato Mirai Parks, Yokohama:
http://community.webshots.com/album/51826188FeskSB
The clouds, the trees, the lid of the sewage system,... I love these photographs.
vincentvds 10:26 [+] ::
Friday, April 11, 2003
Kanji
To learn kanji, I tried everything. Nothing worked. A vicious circle: to learn new kanji we need vocabulary; and to learn new vocabulary, we need the ability to recognize and understand kanji. After 5 years in Japan, I became desperate.
Last year, in December, on my way to the 2kyuu nouryoku shiken, I met an American girl in the train. She saw me studying Japanese. We started a conversation about language frustrations. She spoke about a Kanji book from a certain James Heisig. She wrote the name on a paper. I forgot about it. In March I found her note back in one of my pockets. Without thinking much about it, I bought the book in Bonjinsha. Nothing to loose, anyway. One useless book less or more will not make the difference. But wonder... Heisig's method did work. It took me only one month to learn and write 1000 kanji. I hope to finish all the 1945 jouyou kanji in the month May.
For those who can't memorize kanji: this is the book you need. It is not perfect. You will not learn the pronunciation. It will not help you to speak Japanese, but is very useful to read and write Japanese.
I tried to learn Japanese without writing; it was impossible. I'm convinced today that you have to learn, understand and be able to write the daily kanji to be able to attain an acceptable level of Japanese. Heisig book is my miracle book. It worked, it worked. I have new hopes.


vincentvds 17:01 [+] ::
UltraBob

UltraBob, you were the first to leave a comment in my test weblog. I bungled and lost the message. Inadvertently deleted the entry.

Sorry. Thanks for your useful remarks
vincentvds 12:57 [+] ::
Disney

No school for my 7-year-old daughter today (the school's Foundation Day or something like that). My wife took a day off. My wife and daughter are going to Tokyo Disneyland with some other parents and children. A big relief for me that I am at the office and not in that simplistic-everybody-is-smiling--everybody-is-happy-fake-dreamland.

Disneyland is so artificial, so untrue. On top of that, it is always crowded. The people here love it: "KAWAAAIIIIII-land!" It is enough for me to live in an urban area of 30 million people and to be sandwiched every morning in the Tokyu Toyoko-sen en Ginza-sen. Not one moment I would like to join the masses in superficial overcrowded happy fake-land.

Two years ago, I had no choice. The sister and the old mother of my wife came from Kyushu to visit us. No not really visit us; their prime destination was Tokyo Disneyland, the dream destination of my wife's family. The voyage of their life! The destination of all destinations. My wife's family has no interest in traveling or other cultures. They even don't know exactly where I am coming from: Belgium, Sweden, Finland, Holland or South Africa? And why should they know it? It is from somewhere faraway outside familiar Japan: from Europe, America, the planet Mars or Outer Space, what's the difference? All gaijin are strange. But Disneyland, no, that land is not strange.The family's voyage took place in the middle of the crowded 0-bon period. It was terrible hot and humid, overcrowded. But that could not temper the excitement of their happy trip. Oh! What a nightmare. When we went to a fake Italian Disney restaurant, I couldn't order red wine, not even a fake Italian wine: no alcoholic beverages in Disneyland.

Anyway, the sister of my wife was very happy. She realized her dream: she was in the middle of Mickey World. It made her apparently happier than her only other faraway voyage: the all-included-package-wedding for Japanese in Hawaii in a fake white chapel with a fake white priest near a fake white sand beach under some palm trees.



A lot of people: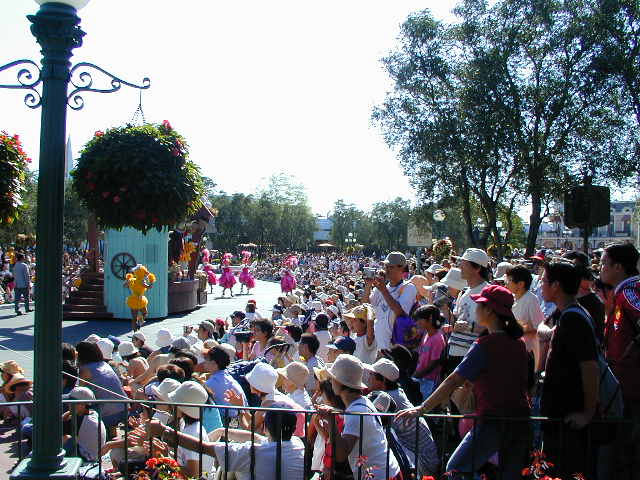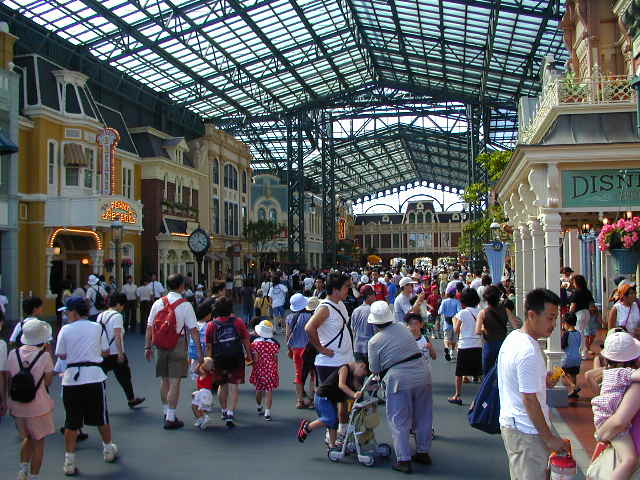 She seems less happy: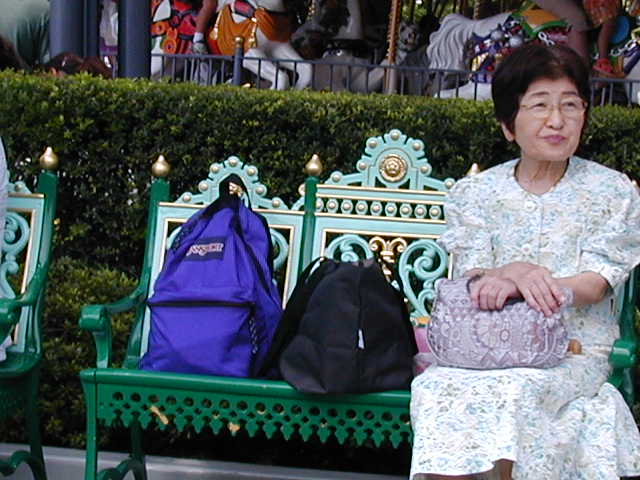 Japan Tourist Cowboy: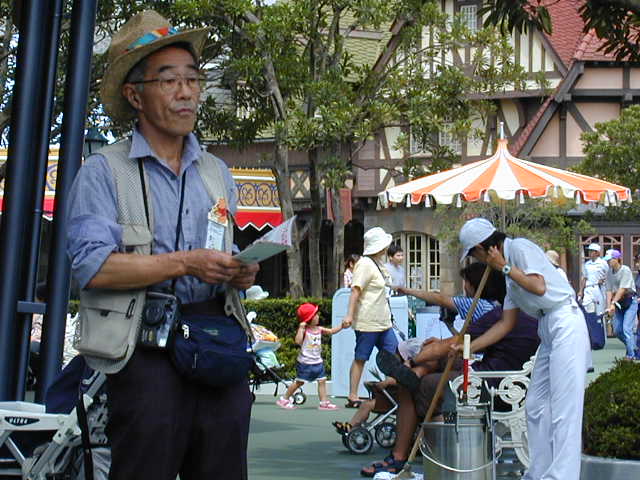 Fast Meal, Great Fun: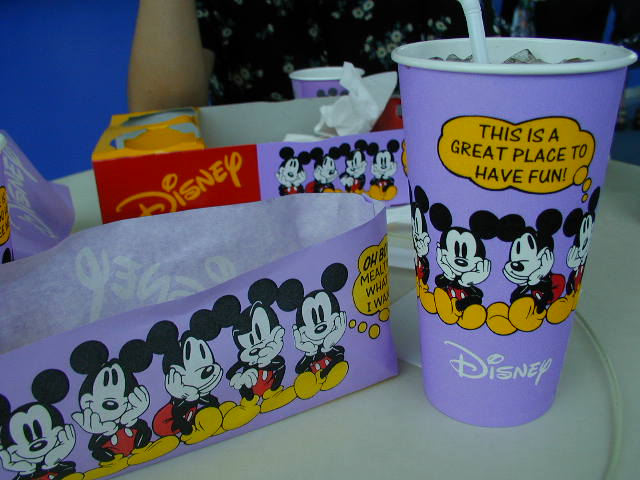 Baby-carriage parking: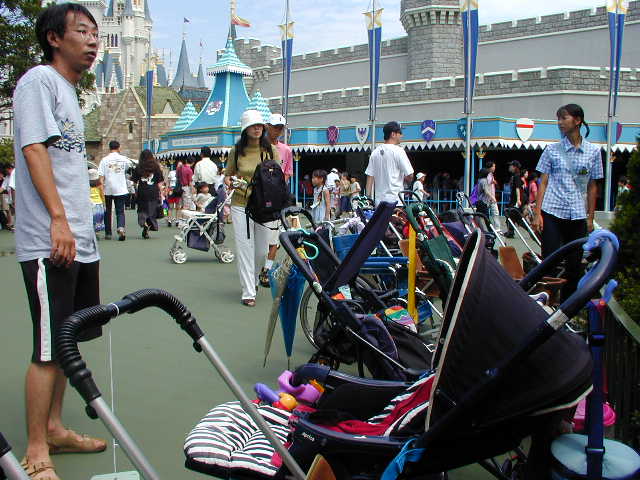 Happy Wonderland: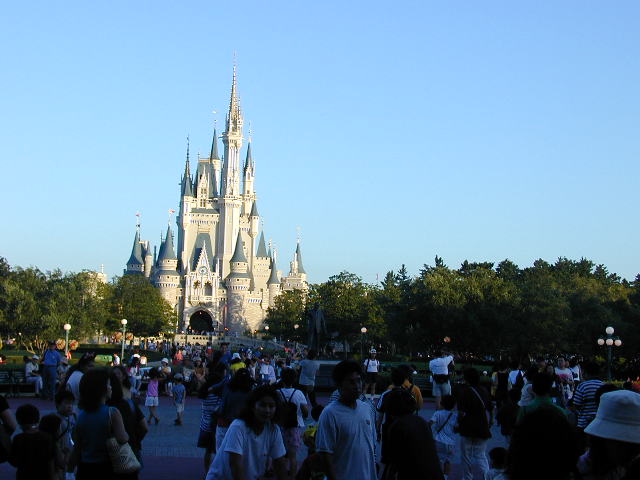 vincentvds 12:44 [+] ::
Thursday, April 10, 2003
currently reading